How Do I Access OneDrive?
Owning or setting up a Personal, Business or School Microsoft 365 account will give you immediate and unrestricted access to OneDrive. If you have an email address like @hotmail.com or @outlook.com, you already have a Microsoft account. If you use a Windows 10 or Windows 11 PC, you most likely had it set up with a Microsoft account as well.
If you intend to use OneDrive occasionally, you can access your account from the OneDrive website to upload, view, and download files without downloading the application. This has shortcomings as you must constantly open the OneDrive webpage to access your files.
If you use a PC that runs on either Windows 10 or 11, you do not need to be bothered about downloading or installing OneDrive. This is because it comes embedded within the operating system. You can also download it if you use Windows 7, Windows 8 or MacOS.
The Benefits of Using OneDrive
So why should you bother with OneDrive? Here are some good reasons:
1. OneDrive Enjoys a Wide Range of Support

OneDrive is compatible with various operating systems, including Windows, macOS, iOS, and Android. It also has extensive support for different types of multimedia, including photos, videos, sound recordings, and documents saved in various formats.
In addition to this, you can access your photos, videos, and other files stored in OneDrive on any laptop, phone, or tablet from anywhere in the world. You can even use OneDrive with your Xbox console.
2. OneDrive Is Easy to Use
OneDrive is easy to navigate, as you can easily alternate between multiple document libraries without much fuss. The Quick Access option also lets you pin files or folders frequently used for easy access whenever required.
OneDrive supports work and personal use integration. As such, you can easily set up and alternate between work and private files seamlessly by setting up and switching between your personal and professional accounts.
3. OneDrive Uses Synchronization
This feature makes it convenient for you to make changes to a file even when you're offline. Once you are back online, the new file or the changes you have made to an existing file will automatically be stored on your OneDrive and will become available on any of the devices that have access to your account.
This feature is so handy because it uploads files automatically as the synchronization process works in the background. Unlike other storage providers, it does not require you to manually upload files to the cloud, eliminating the need for browsers.
If you use multiple devices to work on your files (for example, a work computer, a home desktop and an iPad), your files will be available on your devices without you having to copy or email them to yourself!
4. OneDrive allows easy sharing
This feature is one of the major benefits of OneDrive. Unlike adding email attachments, you can share files and folders of almost any size without restrictions. You can also control whether people are allowed to edit the files, when their access expires, set a password, or block downloading files.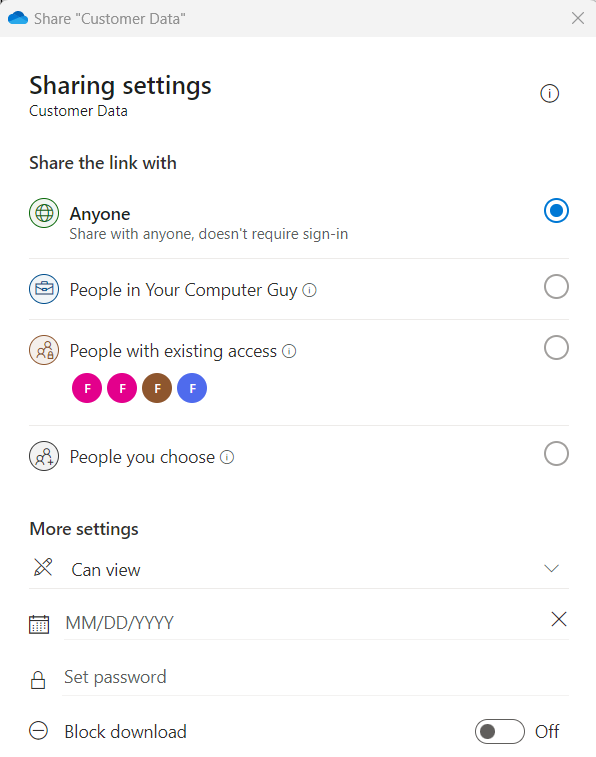 Is OneDrive Free?
Yes, it is. Once you create a Microsoft account, you gain free access to 5GB of OneDrive storage. You can use your storage space on any device of your choice as there is no limit to the number of devices it works with. However, if you want more storage, you have to join a paid plan.
We recommend getting it with a Microsoft 365 subscription, which costs from $99 a year for a Personal plan to $169 for a Family. If you have your own domain and run a business, you should sign up for Microsoft 365 Business.